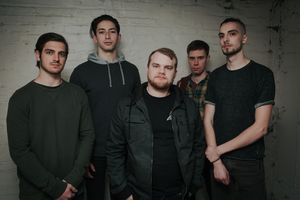 Bio
A Moment in Pompeii is a metalcore act that strikes a balance between technical and melodic song writing. AMIP features heavy down-tuned guitars and bass that holds down rhythmic breakdown sections, fast aggressive leads, and melodic choruses are mixed in for good measure. The lyrical content of our music often touches on the struggles that we face that others do not see, in our hearts and in our heads, while also exploring the concepts of renewal and recovery. 
A Moment in Pompeii finds its roots in 2014 when drummer Antonio DiBiasio and guitar player David Pinkerton met at college.They began playing together, and soon added Doug Boylan on lead guitar, Sam Allison on vocals, and Josh Mauro playing bass guitar. 
A Moment in Pompeii's name is a reference to the Roman town of Pompeii that was destroyed by the eruption of Mt. Vesuvius in 79 AD, and how life can change in the blink of an eye. One moment you're here and the next you're gone forever. The central concept is that an effective life time comes down to acting as if any moment on earth could be your last. 
AMIP released their first album Burden, a 7 track EP, in January of 2018. The EP was a conglomeration of both older and newer songs, and was influenced by current and former members. Burden was written as an acknowledgement of the struggles we face in life. Struggles that often isolate us but are universal to our human experience. We believe that acknowledging and validating the reality of these struggles as a shared experience is unifying rather than isolating, and this is how healing begins.